Interview with CzS™ | ๖ۣۜHoʍєʀ
Today we're giving you a little peek into an ARK modders life. Let's meet Thiago Ribeiro, also known as CzS™ | ๖ۣۜHoʍєʀ!
Tell us a little bit about yourself. Age, where you're from. Interests, hobbies, etc.
I'm 41 years old and I'm from Brazil. I currently work with web development, but specifically with FrontEnd Development. I really like everything related to technology and everything about development.
How did you get started on your project?
After some unsuccessful contact attempts with a developer who abandoned his project that was well known and used by the community, I decided to start making my own with the same idea but with some improvements and new features, which was SeedFarm.
What is/has been your inspiration?
As I work with development, my biggest inspiration is knowledge and being able to start expanding everything I currently have difficulty learning, studying, and doing with something I like the most, the ARK. Learning to develop and create mods. People like prome, Psycho, Pikkon, and other great community developers have always been my inspirations and motivations. =)
Is this your first ARK-related project? Have you worked on anything similar before?
At ARK, yes.
Outside of the ARK world, have you any other experience with any type of modding or coding?
I've already done some mod customizations for CS:Source, CS:GO, and Team Fortress 2.
Do you have any tips and tricks for other people that either are doing this or want to get into it?
Resilience and always studying. Interacting with people who already have experience was the best way that always helped me.
Seed Farm is a mod that allows you to plant all types of ARK resources. In it, there are different tiers and in each one, the seeds of resources are distributed. The better and rarer the resource, the greater the tier it is in.
This mod is still in the development stage. Some things in it can still be changed and many more are still to be added as development continues.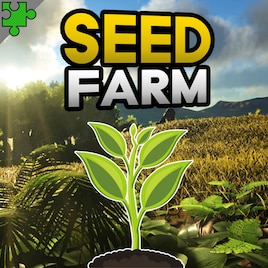 Workshop URL https://steamcommunity.com/sharedfiles/filedetails/?id=1657570103
Spawn codes https://goo.gl/BJKxQG
Website https://seedfarm.czsbrasil.com.br/
Do you have any plans or spoilers for your project you'd like to share?
I've been working on some new features for SeedFarm, one of them for a long time now, which would be a crop plot that works exactly the same as vanilla, but doesn't need water and fertilizer. Currently, I managed to make a version but the graph still has a LOT of repeated things, and I believe my biggest challenge is to improve it in functions.
Anything you'd like to add?
I believe that's it. I apologize for my English which is not very good.
Thanks
A great thanks to CzS™ | ๖ۣۜHoʍєʀ for taking the time to talk to us and share his experiences!
If you'd like to be featured like this, or know someone that you think would be a good candidate, join our Discord and talk with anyone on the staff, or just simply fill out this form.