Interview with RedDwarf
Today we're giving you a little peek into an ARK modders life. Let's meet Dave, also known as RedDwarf!
Tell us a little bit about yourself. Age, where you're from. Interests, hobbies, etc.
Hey there, I'm Dave. I'm 37 years old (get off my lawn, I see you), and I'm currently in my hometown of Austin, TX. I have an electrical engineering degree, but I spend most of my time programming instead of building circuits. =P
Hobbies are pretty typical nerd stuff: ARK, Modding, hosting D&D games, electronics projects, programming, etc. Met my wife while playing ARK, so I've got that going for me.
How did you get started on your project?
My wife and I played the first Christmas event several years ago, and we were devastated when all of our decorations disappeared when the event ended. So I created the first holiday mods for ARK. At first, I was just copying over all of the Wildcard assets, to make sure that the items could stay on the server until the owner wanted to end the event (or kept year-round if players liked their items), but then it grew into adding more and more content. Pretty much anything my wife and I enjoyed got added. Many of the current items are also based on feedback from players, etc.
What is/has been your inspiration?
Creatively, my inspiration mostly comes from things that make my wife and I laugh. "Oh, that needs to go into ARK immediately!", etc. =)
The thing that inspired my first mod, Stackable Foundations, was just the frustration of building on sloped surfaces. That mod was later rolled into S+ (with my blessing), added to the base game when S+ was integrated, and then later added to Atlas — so I consider that a success. =D
My current project, ARK Hallows Eve, is inspired heavily by Harry Potter, Peanuts, and Army of Darkness.
Is this your first ARK-related project? Have you worked on anything similar before?
I've done a bunch of random mods over the years, and I've got at least a dozen mods that are half-finished but will probably never be released. My projects fall into a few broad categories: Holiday mods, Quality of Life mods, and Very Silly mods (Rocket Poops, etc).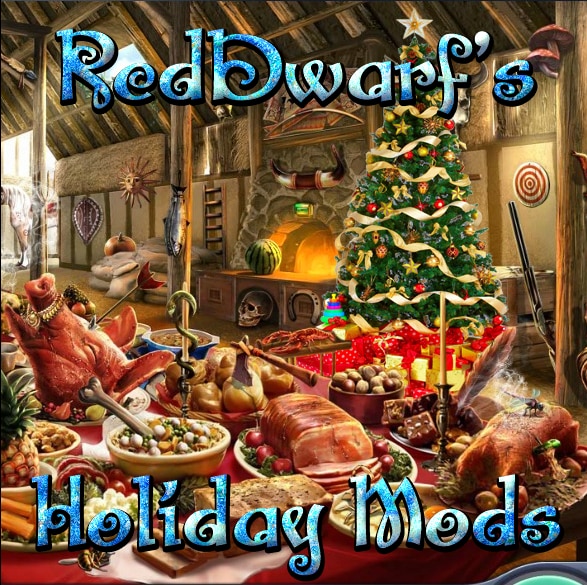 Outside of the ARK world, have you any other experience with any type of modding or coding?
I've done chip-level development/programming, Python, MatLab, SQL, etc. Like many ARK modders, I'm a programmer by day and a modder by night.
Do you have any tips and tricks for other people that either are doing this or want to get into it?
Just jump in and start. =) Find something really small that you want to change, and work on getting your first mod out. There's a great ARK modding community discord that has years' worth of modding discussions to search through, and that's an invaluable resource for anybody just getting started.
RedDwarf's Holiday Mods
Recently I've been putting most of my work into my holiday event mods, just because I enjoy the holidays. "ARK Hallows Eve" gets a vast majority of my time.
https://steamcommunity.com/workshop/filedetails/?id=1531545950
This mod provides several new Halloween-themed items, costumes, decorations, buffs, creatures, etc.
Additionally, this mod contains most of the "Fear Evolved" content (which has been modified and expanded) so that players can decorate their bases for Halloween and goof off with their friends.
Items in this mod are meant to be spooky and fun, with heavy nods towards Harry Potter, Army of Darkness, Willy Wonka, the Peanuts Halloween Special, and Steven King's "IT".
This mod provides a fun and easy way to kill Super Turkeys, Dodos, Terror Birds, and Argents — and cooks them into giant feasts for your whole tribe! Collect feathers and wishbones to unlock the Chieftain Hat and the "Turkey" emote.
This mod also adds tamable/breedable regular turkeys (not the "super" turkeys) so that you can have turkey whenever you want.
Why farm mistletoe for weeks just to build a Christmas tree? Ho-ho-ho, that's no good! Holiday Delight offers all of the cosmetic holiday event items in a single crafting station, for free! Create as many decorations as you'd like, and go crazy this holiday season.
The "Crafting Wreath" also serves as a music player! Listen to the "Winter Wonderland" theme while you decorate! Volume can be adjusted via config settings, or you can adjust the in-game music slider.
Do you have any plans or spoilers for your project you'd like to share?
I'm currently working on a big mod called "RPG Core", which brings a lot of classic MMO-style elements to ARK. After this "Core" mod is released, I'll be working on additional plugin modules "RPG Professions", "RPG Loot", etc.
Anything you'd like to add?
I'm really looking forward to ARK 2, and I hope it's moddable as well. Thanks to WildCard for making such an addicting game, and ruining all my free time. =)
Thanks
A great thanks to RedDwarf for taking the time to talk to us and share his experiences!
If you'd like to be featured like this, or know someone that you think would be a good candidate, join our Discord and talk with anyone on the staff, or just simply fill out this form.